Responsive & Professional
For all your computer needs

Put your trust in Computer Avenue for all your computer needs. Our technicians are truly some of the best in the industry. We can handle everything from bugs and viruses to building custom new computers and selling the best recertified laptops and computers. You will feel comfortable knowing all our services come with a 100% guarantee. Our services include:
Contact our office in Humble at 281-812-6313 for more information about our exceptional computer services.
New Computers
Recertified Computers

Recertified Laptops

Virus/Bug Removal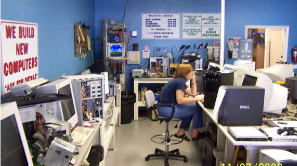 Computer Repair
You can rely on our computer repair to keep your computeron track.
New Computers
New Computers Come with a 3 year parts and 1 year labor warranty (standard).

Virus and Bug Removal
Our experience pays off when it comes to computer clean up.
Used Computers
We have Used and Recertified Computers.
Recertified computers come with a 1 year warranty
Desktop Repairs
Laptop Repairs

Computer Service, Computer Repairs, New Computers, Refurbished Computers

We provide a full range of computer services for our customers. From troubleshooting and computer upgrades to new computers and recertified computers, our technicians are well suited to fit your needs.
MAC -Computer Repair
We are now offering Mac computer repair. If you are having issues with your Mac bring it by for a Diagnostic.